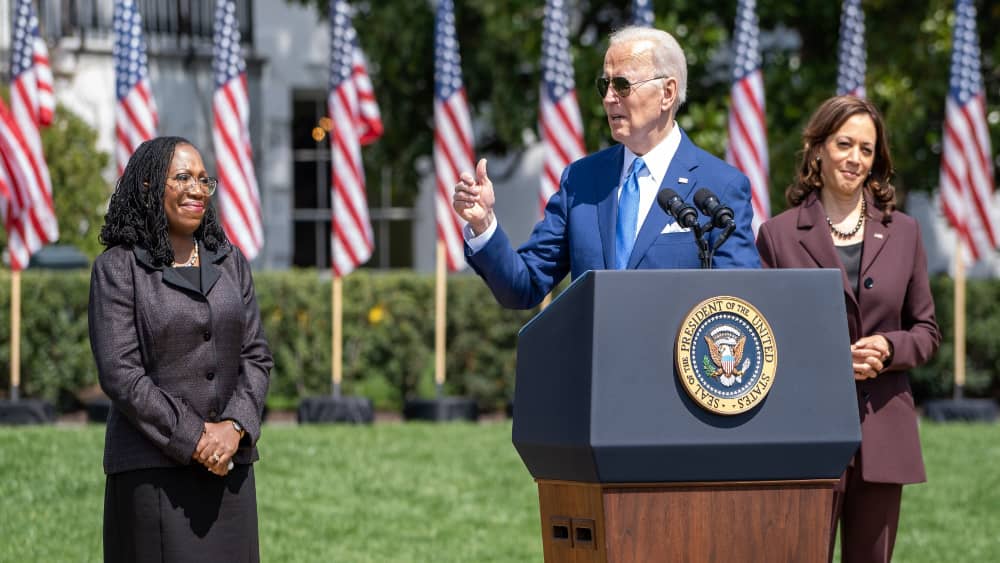 Ketanji Brown Jackson was sworn in on the U.S. Supreme Court on Thursday, becoming the first Black woman on the bench.
The 51-year-old Jackson, a top federal appellate court judge and former public defender, was sworn in at noon following the retirement of Associate Justice Stephen Breyer, who ascended to the high court in 1994 and announced his resignation earlier this year. Chief Justice John Roberts administered the constitutional oath, and Breyer administered the judicial oath. Roberts said at the ceremony: "There will be a formal investiture in the fall, but the oaths will allow Judge Jackson to undertake her duties, and she's been anxious to get to them without any further delay. On behalf of all of the members of the court, I am pleased to welcome Justice Jackson to the court and to our common calling."
Jackson was a judge on the U.S. Court of Appeals for the District of Columbia Circuit for about a year before ascending to the Supreme Court.  President Joe Biden had promised during his campaign for president in 2020 that he would nominate a Black woman to the court.
The Senate narrowly confirmed Jackson in April by a 53-47 vote, with most Republicans arguing that Jackson's track record as a judge showed she is weak on crime. Jackson is the 116th Supreme Court justice, and will formally join the court when it begins its next term in October.
Editorial credit: White House Photography / Shutterstock.com