Hear the Blue Monday Master Tapes with Larry Monroe on KDRP and KDRP.org every Monday 10pm-1am
---
Larry Monroe was a beloved DJ and musicologist who began his broadcasting career when he was a high school student in Hartford City, Indiana. After working at stations in Ann Arbor and Detroit, he moved to Austin, where he spun records at KUT from 1981 to 2010 and at Sun Radio from 2011 to January 2014.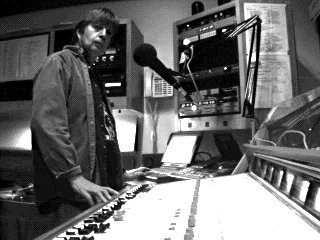 Monroe's radio programs included the award-winning Blue Monday as well as Phil Music, Live Set, Texas Radio, Segway City, and Texas Radio Live. Among his specialties were Austin and Texas singers and songwriters, whom he worked tirelessly to promote. Since 2011, Monroe hosted three popular shows on Sun Radio: his signature program Blue Monday, Texas Radio Live from Guero's Oak Garden and Phil Music.
He was known for his thematic musical "segways" as well as the "backtime segway," in which he played a spoken piece, often comedy, then a song, with the spoken piece leading seamlessly into the first line of the song.
As a radio artist, Monroe never wavered from the belief that DJs should have the freedom to create their own unique programming.  He won a National Award for keeping the Blues Alive in Memphis and Nashville, Tennessee and was voted "Most Popular Deejay" in Austin, Texas.
On January 17, 2014, Sun Radio lost one of its patriarchs with the passing of Larry Monroe. After over 30 years on the air locally, he was a pillar of both the Austin and music worlds – a renowned on-air personality, a musician's advocate, and a dear friend to all of us here at Sun Radio. He is greatly missed.
---
Larry Monroe Forever Bridge
Through the Artwork Donation program of Austin's Art in Public Places program, Larry Monroe's partner, Ave Bonar, commissioned artist Stefanie Distefano to create a mosaic to honor Larry's life and work. The Larry Monroe Forever Bridge, officially named such by the Austin City Council, is located in the 1500 block of Eastside Drive in South Austin.
Ave and Stefanie led a team of more than 100 volunteers in the fabrication of the tiles and installation of the artwork. More than 300 private donors, whose names comprise the mosaic's border, contributed to the fundraising effort for this project. Sun Radio was proud to donate the final $2,500 needed to push the fundraiser to its $20,000 goal. At a dedication ceremony on June 20, 2015, Mayor Pro Tem Kathie Tovo accepted the artwork on behalf of the City of Austin.