John Lee Dromgoole is well known for his 35-years with his weekly call-in show "Gardening Naturally." He has been a regular on Central Texas Gardener's "Backyard Basics" as well as "The Weekend Gardener" on KXAN for 20-years.
John started his radio career in high school as a DJ in Laredo, Texas. He has his own show in Nuevo Laredo, Mexico "Sonidos de la Paz" (Sounds of Peace), one of the Border Radio shows. At Texas A&I, he studied radio, television, and film. He was also a frequent guest on WOAI Radio in San Antonio. Currently, he is the owner of The Natural Gardener in Austin and founder of Lady Bug Natural Brand.
John brings his own blend of classic country music, local musicians and many other dance hall favorites to Sun Radio.
Listen Sundays at 9am on Sun Radio and Saturdays at 8pm on KDRP.org and KDRP 103.1FM in Dripping Springs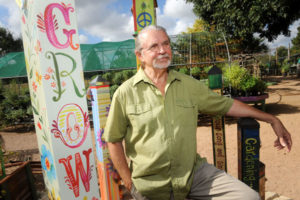 Supported by