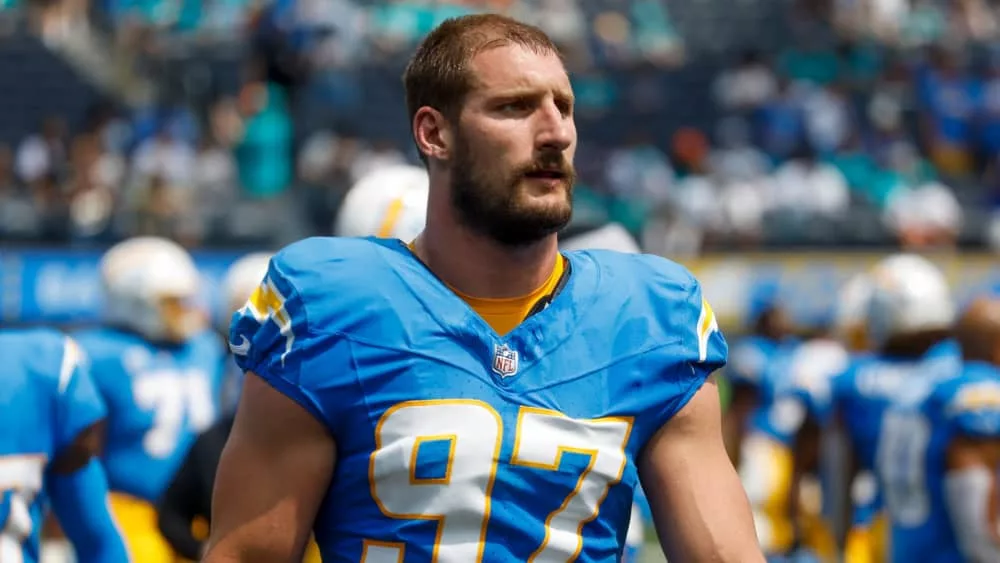 Los Angeles Chargers linebacker Joey Bosa was carted off the field in the first quarter of Sunday's Week 11 game against the Green Bay Packers after being injured. The Chargers initially said the 28-year-old Bosa was questionable to return due to a foot injury, but downgraded him to out midway through the third quarter.
The injury occurred on the opening drive of the game at Lambeau Field on a first-and-10 run by Packers running back Aaron Jones. Bosa collided with a Packers lineman as Jones ran into the pile, and Bosa seemed to immediately pick his right foot off the ground; after the play was over, Bosa limped off the field in very noticeable pain before lying down on the sideline.
ESPN's Kris Rhim shared on social media: "Joey Bosa appears to be in significant pain on the sideline. Limped off the field and is sitting on the sideline bench with his face in his hands as trainers and teammates talk to him," and later tweeted: "Joey Bosa just left to the locker room on a cart. Looked very upset and appeared to be crying into a towel."
The four-time Pro Bowler has been plagued with injuries since the Chargers selected him third overall in 2016, playing an entire, full season just twice through his career. In 2022, Bosa was out for 12 games because of a groin tear; and this year, Bosa's left big toe fracture, along with a hamstring injury, sidelined him in Week 4 and limited his availability for the next two games. In eight games played this season, Bosa has posted 20 tackles, 6.5 sacks, eight quarterback hits and a forced fumble.
Editorial credit: Ringo Chiu / Shutterstock.com